Valentine's Day Gift Ideas that are quick and Easy
---
Valentine's Day is near and you are really running out of the time for buying a gift. If you haven't decided yet then read on for some of the last-minute Valentine's Day gift ideas and make your loved ones feeling special! We know you want to buy a special gift for your valentine and you don't have much time left. Don't panic! You still have a couple of days to go. There are many gifts that you can still buy for him/her or even some of them are the DIY gifts.  It is not necessary that you should buy expensive gifts only as they are just the way to express your love. So just pick one from the list we have prepared for you and express your love!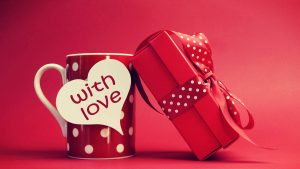 Get a gift card
A gift card will be a good option if you are unable to decide about the gift. He or she will be happy after receiving a gift card from you as it will allow him/her to purchase a thing of his/her own choice. Remember you are not purchasing these gift cards for scoring your points, you are giving it to your valentine so just express your feelings with it. You can put a small tag having a special message on it.
A beautiful bouquet
Well, a bouquet is a very common gift that is given at the Valentine's Day but you cannot underestimate its importance at any cost. Flowers are the great way to show your love for someone. You are not needed to spend a lot of time in searching for the gifts; just go to the supermarket and you will be finding a lot of amazing bouquets. You can buy a dozen of the quality roses at Tesco just for £10 and at Morrison get 18 red roses by spending £10. If want some change then you can add some other flowers with the red roses. For some more ideas check out different popular sites for getting the guidance for the V-Day.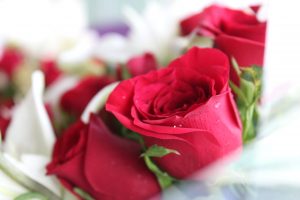 Chocolates with teddy bear
Another signature gift for V-Day is a box of chocolates with a cute teddy bear. If you haven't bought any gift yet and want to make her happy then this will be the perfect gift for you. You can add your own twist to this gift by shifting these chocolates from the typical box into a small cute bucket and decorate it with some ribbons yourself. Place the teddy at the side of the bucket and wrap it in a red net to give a cute look.
Make a special card yourself
You can also prepare a special Valentine's Day card and write your message in it and give it to your lover. If you are afraid of your drawing skills then just write a simple message in large size letters on the card and paste a picture of a happy moment you have with him or her on that card.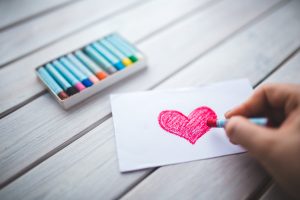 Shaving set
If you are thinking what will impress him and still you haven't bought anything; then go for a shaving set. This will be a good gift so that he will be starting his day feeling good and fresh. The shaving sets that are available now have the other skincare products also along the shaving tools; all he need is to know how to use them perfectly.
A pretty necklace
Necklaces are women's favourite! Get an elegant necklace for her and make her wear it yourself. It will be making you both happy plus you both will enjoy a romantic moment.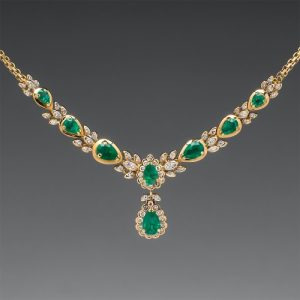 Beauty Spa
Get her the vouchers of a beauty spa or a beauty treatment that will make her look fresh and good.
DIY flower vase
Make the use of your DIY skills and customize a simple flower vase by painting yourself. Paint it white with a small red heart, use some glitter to decorate it or just the way you want to. If you don't have the paints then just buy the glue and glitter of your pink or red colour and add use your artistic skills. Put some red roses in it and gift it.
DIY candy jar
Take a mason jar and decorate it using a lace or a ribbon. Put a label on it having a sweet love message and fill it with lots of candies or chocolates. Decorate the lid using the glitter or flowers and net and here you go.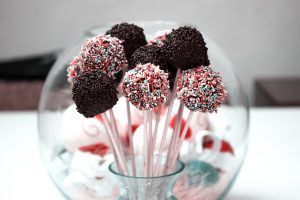 Heart-shaped muffins
Next up are the heart-shaped muffins or may be the cupcakes if you add the frosting to it. You can make them yourself. Put the paper cups in the muffin tray and put a marble on the side to give a heart shape to the paper cup; just put the batter in these. (Don't forget to grease). Take out these heart shaped muffins and serve them as it is or put the icing over them.
A cute aromatic candle
You can buy a cute aromatic candle very easily from the super store and give it as the gift. You can also customize it by decorating it.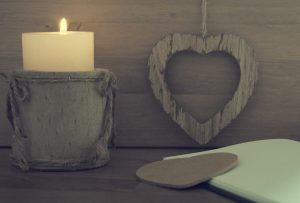 Chocolate fountain
A chocolate fountain will be enough to make her happy if she likes chocolate. Melt the chocolate and pour it to the fountain by reading the instructions and just turn it on. She will become very happy to see it.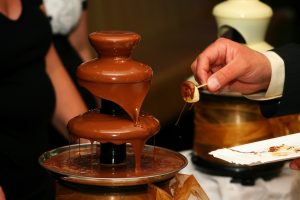 A perfect dinner
A perfect candle light dinner at a good restaurant can make your day. Book a table for two at a good restaurant and spend some time together at the romantic Valentine's Day evening and then have a delicious dinner. Finish it with a mouth watering dessert. A perfect way to make your day memorable!
These were some of the easy and quick V-Day gift ideas. So if you want to make your lover happy then pick an idea from our list and start your preparation. You still have some time so buy a gift directly from the market or if you want to give something you make with your own hands then just go for that!