14 Adorable Hairstyle Ideas for This Valentine's Day
---
It's almost a week to go for this year's Valentine's Day and you might have done with all the preparations. I have a pretty dress to wear this Valentine's Day but I am still confused about the hairdo; Aargh! Well, there is no need to become worried about the hairstyle as we have a list of some adorable hairstyle ideas that will help you to look perfect. We understand that you want to look stunning this V-Day and without a perfect hairstyle, you would look incomplete. That's why we have shared some gorgeous hairstyle ideas with you; so pick your favourite one and get ready to be the centre of attraction on 14th February.
Side-Swept Waves
Side-Swept waves are always considered to be the stylish and romantic hairstyle. Create a part on the right and then start curling your hair to left. Once you have got the curls then place the curls on the side of your shoulder.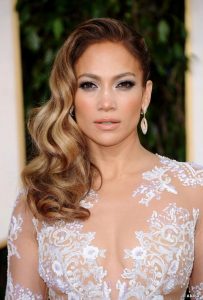 Simple fishtail braid with a puff
Fishtail braids are always cool. Just add a little variation to the simple fishtail braid by making a puff on the top. This will look more stylish and perfect for the Valentine's Day.
Messy low bun with Dutch braid
Well, messy low buns look so amazing and often they are the choice of most of the girls for a perfect look. Messy low buns are usually considered to be more casual and when combined with a side braid or Dutch braids this amazing hairstyle even looks more stunning. This will look good whether you are meeting someone at the daytime or going out for the dinner with your Valentine.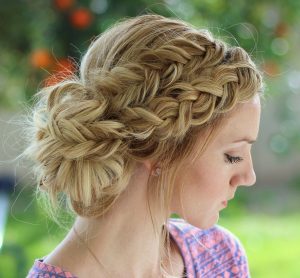 Stylish Side braid
Side braid hairstyle is simple and looks elegant. Add some variation to the typical side braid by teasing the crown and then flip your hair for creating a messy look. This will give you a more casual look.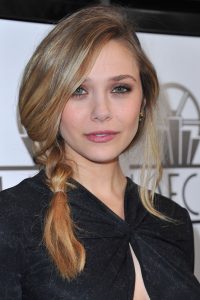 Heart-shaped bun
It's Valentine's Day so why you should go with the typical hairstyles? Give a new look to the typical bun by turning it into a cute heart-shaped bun. Use the hair doughnut to create the bun and then give it the heart shape by using the elastic hair ties. This will look super cute and trendy as well.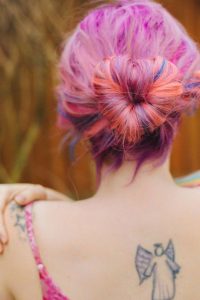 Glitter roots
Try the glitter roots this Valentine's Day. Add some glitter that matches your clothing into the roots of your hair and look gorgeous. Trust me, this interesting hairstyle will not only look good but also it will be admired by the others. So add some glitter to your roots and that's it!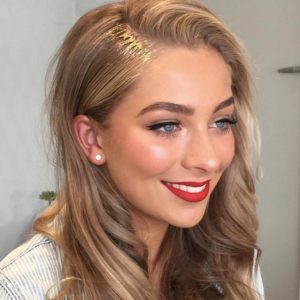 Waterfall braids
Waterfall braids look amazing than the typical braids especially when you do these braids with the wavy hair. You can use the bobby pins to make it sure that the braids are secured and then use a flat iron to curl your hair.
Veronica Lake Waves
The vintage classic Veronica Lake Waves are considered to be among the most romantic hairstyles. You can add some variation to this vintage inspired hairstyle by using the gold accessories. Take a metal chain and make its loops and then use the bobby pin to place them on your waves.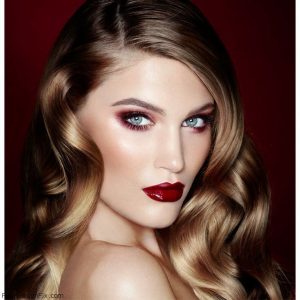 Ponytail with bubbles
Ponytail with bubbles looks so smart so just make a ponytail and then add the elastic bands at the small regular distances to create the bubbles. This hairstyle will look so cute and will give you a neat and tidy hairstyle so try this if you are bored from the messy hairstyles.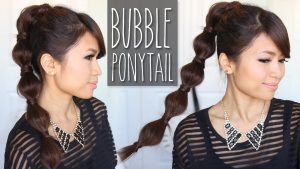 High ponytail
High ponytails always look good but you know what? You can actually make it better by taking your top hair and just puff it up. This will look so glamorous and will make your look perfect even if you won't use many accessories. If you have short hair then use the hair extensions to create a perfect look.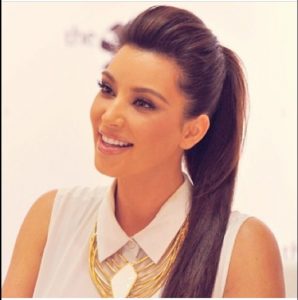 Waves with twisted strands
If you have naturally wavy hair then just use the texture of your hair to create a sweet hairstyle. Take two or three sections of the hair that must be thin and then start twisting them separately. Once you are done with it, use the bobby pins or the hair clip to secure them together.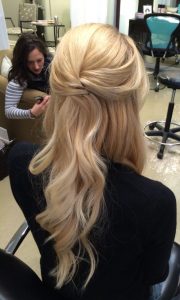 Straight fringes with side curls
Yes straight fringes with curls, straight fringes look pretty cool with the curls. Try this style and you will really enjoy this look as you will be the centre of attraction for everyone!

French Twist
French twist will be wonderful for the V-day hairstyle. It is classy, elegant and feminine style and if you are going out for a romantic candle light dinner then this will be perfect. If you are wearing a gown and want to look graceful then this style will be perfect you.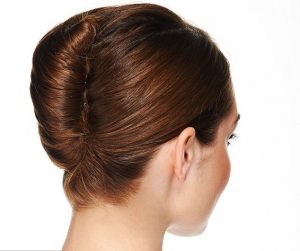 Loose curls along the teased top
Loose curls always give you the princess look. All you need is to tease the top hair and then keep your curls on one side by securing them through the bobby pin. Elegant earrings and your dress; all these will make you feel like a real princess. So just go out with your prince charming and have a perfect evening.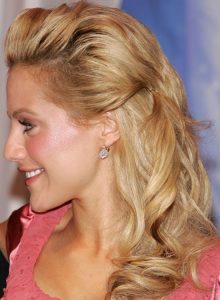 These were some of the hairstyle ideas that we gave you for this V-day, think about your dress and the accessories and then select the one that would be the most suitable. You can try some of these before the V-day to see which one suits you the most and then get ready to look spectacular this Valentine's Day.