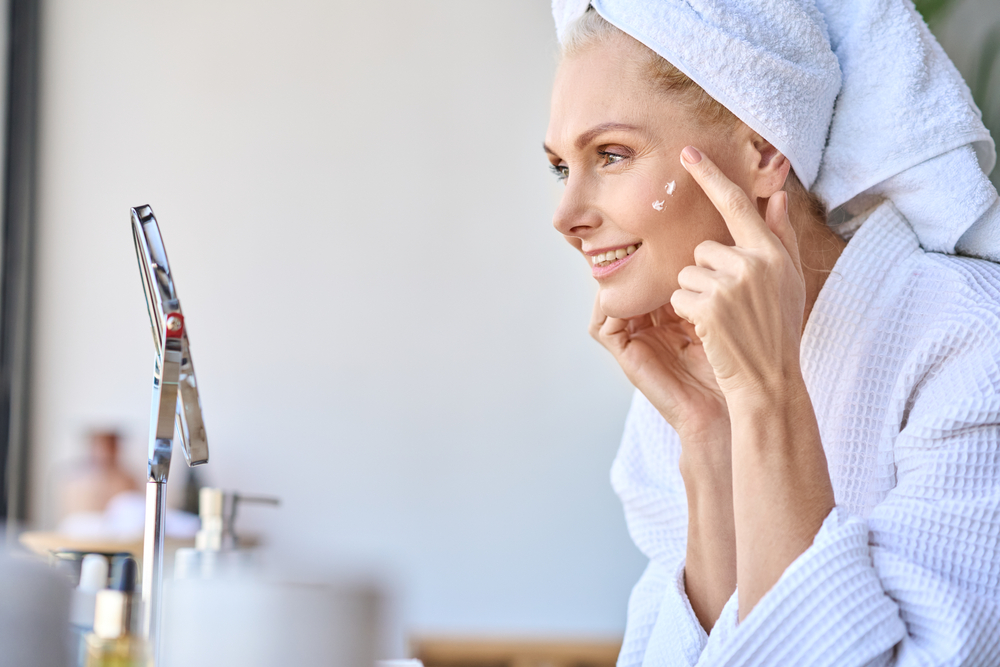 Feel Young Again With These 9 Anti-Aging Beauty Routine Tips
---
Introduction
Time marches onward, and after a while, we all begin to experience the signs of age on our skin. Wrinkles, fine lines, and age spots may develop, and the skin could become dry or dull. However, there are ways to enrich the complexion, repair the damage, and reverse aging. One article discussed skin aging and modern anti-aging strategies and will discuss anti-aging beauty tips in this guide.
There are lifestyle methods like following a healthy, nutritious diet, exercising regularly, and avoiding smoking and drinking. However, there is also much anti-aging benefit to be found in following the right skincare routine and using the ideal products. The market is rich with cleansers, exfoliants, serums, creams, and top-rated skin brighteners that may help bring back your youthful complexion.
9 Anti-Aging Beauty Routine Tips
A few small tweaks in your skincare routine, and you'll be looking more youthful in no time. According to Health Web Magazine, these are some of the top beauty anti-aging routine tips.
1. Protect Your Skin From UV Rays –
When it comes to aging the skin, UV rays do the most damage. Not protecting yourself can lead to wrinkles, liver spots, leathery skin, sunburn, and even skin cancer. It's important to wear a strong sunblock daily, and that means every day of the year. An article in the International Journal of Molecular Science discussed UV radiation and the skin.
2. Exfoliate Regularly –
Many people neglect to exfoliate, feeling like it takes too much extra time. However, this is one of the best skin treatments you can do for yourself. You can eliminate dull, dry skin by exfoliating 2-3 times a week.
This process removes dead skin cells, dirt, and oils from the pores and can also help treat acne and blackheads. It could brighten the skin and give you a youthful glow. The American Academy of Dermatology explains how to safely exfoliate at home.
3. Use A Mild Face Wash –
If you're trying to enhance your skincare routine, reconsider your facial wash. Make sure the cleanser you are using is gentle, non-drying, and suitable for sensitive skin. Check that the product is free of parabens, sulfates, and other toxins which could potentially lead to irritation. It should be rich in fatty acids for hydration, and high in potent antioxidants to repair skin damage and deliver anti-aging benefits.
4. Moisturize Well –
It's extremely important to moisturize your skin daily without fail. Moisturizing prevents dry, dull skin from developing, and it also provides anti-aging benefits. The liquid plumps your skin, which can smooth wrinkles and fine lines. Hydration may also help treat skin conditions. A review in Clinical Medicine and Research explored the role of moisturizers in addressing dermatitis.
5. Use A Quality Night Cream –
A night cream keeps your skin hydrated at night, soothes it, and induces cell turnover and repair of skin damage. During the day when your skin is in the sun and subject to other elements, skin products largely protect. At night, a good cream will rebuild and replenish the complexion. The moisture also provides anti-aging benefits and can help smooth wrinkles and lines.
6. Don't Miss Your Daily Skin Routine –
We can't say this enough times – do not skip your daily and nightly skincare routine. If you want skin that's youthful and healthy, follow the steps every single day for the rest of your life. If you skip your morning routine, you will leave your skin unprotected from the elements and in danger of damage that could age it. Your night routine should deeply hydrate and replenish the skin, which is very important for health and anti-aging.
7. Use A Tone-Enhancing Product –
Investing in a tone-enhancing product could be like investing in a whole new you. These creams balance out your skin tone, often hiding or eliminating blemishes or other abrasions on the skin. They often lead to a much younger look. The Perbelle CC Cream reviews said they loved the way their skin looked after applying the product.
8. Don't Neglect Your Neck –
Many women fail to take the same care with the skin on their necks as they do with their face, and this can lead to early aging like sagging, age spots, and wrinkles. The neck, in particular, loses elasticity with age. It's important to understand that you must follow all of the same steps when treating your neck – cleanse carefully, tone, exfoliate, moisturize, and apply sunscreen.
9. Try A Retinol Serum –
Retinol is one of the most powerful ingredients in skincare, for so many reasons. It boosts collagen production, which tightens the skin, improves elasticity, and smooths wrinkles and lines. It's also a powerful exfoliant that cleanses the pores of dirt and dead skin cells and could heal acne. It's also an antioxidant that repairs skin damage and protects from UV rays and pollutants. Apply a retinol serum before your moisturizer morning and night.
Conclusion
With all of these amazing anti-aging beauty tips, getting older may not be so bad after all. When the wrinkles start to appear, you only have to upgrade your skincare routine with some of these basic tips that you can incorporate. There are enriching products on the market that you can explore from night creams and exfoliants to top-rated skin brighteners.
It's more than possible to build a skincare routine that will have your skin looking younger, brighter, and healthier in a short time. The Perbelle CC Cream reviews, for example, raved about how this product evened out their skin tone.
There are many products that can remove wrinkles and lines, age spots, and dull and dehydrated skin in no time so you look like the best version of yourself. Go ahead and treat yourself to a new you!