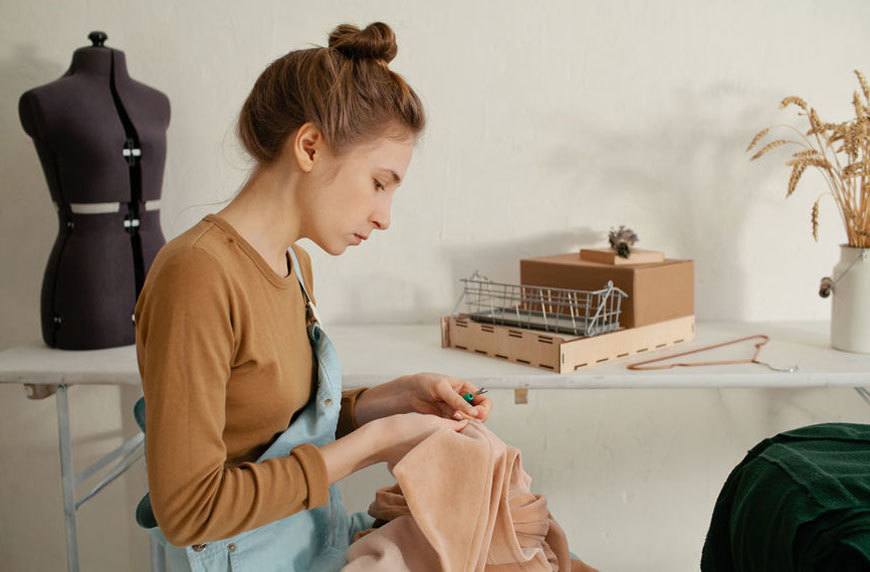 8 creative ways to repurpose your old clothes
---
It will be a waste if you let your valuable apparels in spare. Do you know, you can use all of your old piece of garbs in a completely new way; by using creativity? We have perfect 8 ways for you to repurpose your old clothes and leave an awe-impression every time you walk out of that door. It will allow you to be an artist of your own brand.
It may sound difficult, like starting from the scratch but the outcome will always amaze you and make you believe in yourself as an artist. Here are some amazing ways for you to reuse your favorite clothes in a completely new style.
Patched blanket
If you have a shirt, which you doesn't use anymore or has some emotional attachment to; now is the time to take it out and keep it near yourself every night. Cut it into patch style and give it a complete new exposure by sewing all of the patches of the shirts together in different colours and unique designs to give a bright outlook to the final silhouette.
Jean Bag
If you have any of your old denim/jean, which you do not use or wear anymore, it is high time for you to make the best out of it and tailor it into something completely new and unique, like a bag, which you can carry every day to school/college or work and let people wonder where you got it from.
 Shirt Pillowcase
Your old beautiful shirts can be used for creating unique pattern pillowcases to compliment your bedroom set. All you have to do is take all of your unused apparel and sew them according to your pillow size to give it a new exposure, specially the monochrome shade apparels will surely highlight the features of the bedroom and gives a bold touch to it.
Hat or Beanie 
If you are a hat lover or a beanie lover, make yourself one using your creativity and your unused clothes. Gather your old piece of garbs and start tailoring it in any pattern and design you like, giving it an outlook as you please; either with custom designed patches or with a simple cardinal piece, you will be the artist of your choice.
Turn your t-shirt into little dress
Your girls might love to have the same apparel as you. Why not make them one? Take out clothes you don't wear anymore or even the new ones, to turn them into beautiful little garb and make your little one's stand among their friends. While tailoring considers applying different colours to give it a distinctive look and a bright vibe.
Baby sleeping bag
Allow your baby to sleep peacefully by creating a soft yet comfortable bag, your unused pillow can make it happen, and all you need to do is design it properly before finalizing the sewing section. The internal material will allow it to be comfy and warm for a long time, allowing your child to have a long peaceful sleep and experience lying there.
Scarf
Use your old T-shirts to make yourself an elegant distinctive scarf to complement and enhance the overall outlook of your silhouette. Go for lighter shades to make a lasting impression. This will also highlight even the simplest of your attire and give a bright touch to it.
Denim Skirt
Don't know what to do with the overused denim in your wardrobe? We have a perfect solution for you! Take your sewing machine out and make yourself a bold yet ebullient skirt, which blends well with your outfit and high boots, in this cool breeze of winter. If incase your garb is too worn out from different sections, DIY iron patches is the right answer for you to go for. Pick out any style you like and emboss it onto your attire, giving it a completely new vibe, and be ready to receive the compliments every time you walk out of your door, all dressed up.
Just like this, you can turn even the simplest of outfit of yours, which you don't wear anymore; into something vintage and classy. It will only take your creativity and your time to make the best out of everything, despite the lack of resources, the final outcome will be worth it every time. You are the only person who can change the way you carry yourself and show everyone what you have got as an artist.
All of the clothes are initially made from the supreme quality material, which can easily be reused and turned into a whole new piece of cloth in a completely different pattern.  There are times when we have a special attachment and memory with our apparel, which doesn't allow us to be parted with them, either they belong to our parents or someone special gifted it to us. We just don't have the audacity to discard it. Why not make it stay with you in a completely new way? That's when you turn it into beautiful garb and renew it in your own unique way.
It is never too late to start anything different than usual, have faith in the artist, we all have in us and upgrade your fashion statement every day without spending much money. That's how you stay clever and in style!